I look forward to seeing everyone at the rally this June, in great part because the riding in the Shenandoah Valley is so satisfying.
Of course twisty roads tend to take the spotlight on every motorcyclist's "must-ride list" but don't miss Skyline Drive, which begins in Front Royal.
Running atop the central ridge of Shenandoah National Park for 105 miles, Skyline Drive offers spectacular vistas of the Blue Ridge Mountains in a series of sweeping curves. Although a relatively tame road, it is satisfying in every regard.
NOTE: There is a National Park Service admission to the park. Shenandoah's Single Vehicle Fee Unlimited entry for one vehicle and passengers for seven consecutive days is $25. If you have an annual "America the Beautiful Pass" you'll get in free.
Tips for enjoying Shenandoah National Park
First: fill your tank. There are three gas stations in the park, but you'll pay a premium.
Second: watch for bears and deer in Shenandoah. They are everywhere!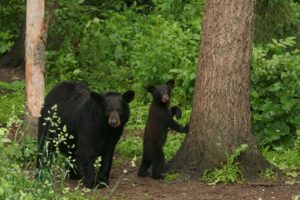 Third: be sure to stop at the two park visitor centers, Dickey Ridge Visitor Center, at Mile 4.6 in the Northern District, and Byrd Visitor Center, in the Central District at Mile 51 in Big Meadows.
Fourth: obey the speed limit. When you see the signs for 35mph speed limit don't be discouraged. Taking it slow is not only the best way to enjoy the views (and watch for wildlife), it's safest way to enjoy your ride because other drivers are likely rubbernecking too!
Fifth: pack a snack and some water. Pull over and breathe that mountain air while you replenish yourself. Snacks are scarce in the park. I suggest South River Falls (below) for a soothing picnic site.
Fifth: pack a pair of shoes so you don't have to hike in motorcycle boots!
Waterfalls along Skyline Drive
All of the falls are described, with a map, in the inexpensive guide "Hikes to Waterfalls in Shenandoah National Park."
Most popular waterfalls:
Overall Run Falls, is found from mile 21.1 in the North District of the park. It is the tallest waterfall at 93 feet.
Rose River Falls, from mile 49.4 along Skyline Drive cascades for 67 feet. The hike is 2.6 miles roundtrip, with a climb of 720 feet.
South River Falls, at mile 62.8 in the Central District of the park is the third tallest in the park. A rock ledge with a stone guard wall offers you a great place to picnic. The hike is 2.6 miles roundtrip, with a climb of 850 feet.
Jones Run Falls is at mile 84.1 in the South District of the park. The hike is 3.4 miles round trip, with a very gradual climb of 915 feet.
Other waterfalls in the park are: